And now, for something completely different...
I love
Looney Labs
. On one hand they are unabashedly goofy--witness the line of
Fluxx
games and the time-travel wackiness of
Chrononauts
. On the other hand they are endlessly inventive; the
Icehouse
pieces invented by Andrew Looney have been spun out into dozens of permutations.
third
hand we have the 'cosmic' side of Looney Labs--and
Aquarius
is the epitome of cosmic.
At heart the game plays like dominoes but instead of pipped numbers there are five "suits", and each player has a goal of trying to connect seven cards of their suit.
Typical card layout.
Atypical card layout.
The goals, however, are secret. And to further mix things up, there are also cards which allow players to trade hands, trade goals, or move cards around the layout.
Thus the game plays quasi-randomly, like its sister-game
Fluxx
. But by the end of the game the table will look like a poster from a Filmore concert.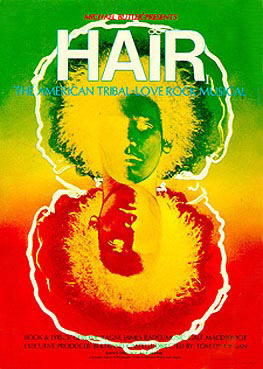 The title Aquarius, not to mention the entire graphic design of the game, obviously
references late 1960's counterculture. The "dawning of the Age of Aquarius" can arguably be dated to the opening curtain of the musical
Hair
, although according to
Wikipedia
the astrological date is more accurately 1884.
There is also the 1980 book
The Aquarian Conspiracy
, which predicted sweeping changes to the way humans would innovate and create--and incidentally coined the term "New Age".
So all in all, the choice of theme for this game certainly works--but begs the question as to how Looney Labs made the choice in the first place.
The game is light, undemanding, and enjoyable as long as you cultivate a spirit of non-attachment to outcome--a Buddhist mentality which certainly also meshes with the game's aesthetic.
NEXT WEEK: THE ARAB-ISRAELI WARS,
OR WHICH WAY AGAIN TO THE SUEZ CANAL?